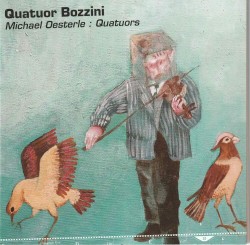 Michael Oesterle – Quatuors
Quatuor Bozzini
Collection Quatuor Bozzini CQB2229 (actuellecd.com)
Tom Johnson – Combinations
Quatuor Bozzini
Collection Quatuor Bozzini CQB 2230 (actuellecd.com)
Quatuor Bozzini has energetically championed the newest in classical music since 1999 in their Montreal hometown, on tour and on outstanding albums. Their mission is to cultivate risk-taking music, evident in the creation of an impressive commissioning program of over 400 pieces. Frequent collaborations with other musicians and cross-disciplinary projects have been another career feature. An example of an unusual collaboration, one that I took part in, happened in 2012 with the development of new concert repertoire with Toronto's Evergreen Club Contemporary Gamelan, performed live and subsequently released on the album Higgs' Ocean. The title track, scored for string quartet and gamelan degung, was by prolific mid-career Canadian composer Michael Oesterle.
Oesterle's mature compositional style balances two late-20th- and early-21st-century streams: American minimalism and European postmodernism. The latter comes through in his exploitation of sonorities, formal, timbral and harmonic sophistication, allusions to historical Euro musics and an identifiable Oesterlean lyricism. This album's four substantial string quartets offer an appealing balance between musical straightforwardness and complexity. Oesterle often generates drama from the friction between the idiomatic and the completely unexpected.
Daydream Mechanics (2001), which evokes the "awkward adventures of childhood when the backyard seemed as full of disturbing possibilities as any uncharted territory," offers an example of Oesterle's use of extra-musical inspiration. On the other hand the composer describes his Three Pieces for String Quartet as "three short pieces [composed with] modules drawn from a system of triangular numerical sequences…." I however hear surprisingly Renaissance- and Baroque-infused character homages to the three animals Oesterle titles each movement after: kingfisher, orangutan and orb weaver.
American-born composer and longtime French resident, Tom Johnson (b.1939), served as The Village Voice's influential music critic from 1971 to 1983 covering the era's exciting new classical music scene. The first to apply the term "minimalist music," Johnson's personal compositional style leans toward minimalist formalism. Quatuor Bozzini has collected his complete works for string quartet covering four compositions from 1994 to 2009 on this album.
Dwelling on mathematic sequences and permutations of a limited core musical material, in Johnson's hands the musical whole emerges satisfyingly greater than the sum of its lean components and intellectual procedures. Each relatively brief movement vibrates like a sonic poem. For example, the opening six-note motif of Johnson's Tilework for String Quartet (2003) is transformed through his exploration of the myriad ways in which lines are "tiled using six-note rhythms," relying on a computerized list of rhythmic canons. The composer helpfully adds, "Of course, composers, performers, and listeners don't have to know all of this, just as we don't need to master counterpoint to appreciate a Bach fugue… [because] music allows us to directly perceive things that we could never grasp intellectually."
Performed senza vibrato, Quatuor Bozzini renders these scores with virtuoso precision along with warmth and a subtle lyricism, a winning combination I grew to appreciate after repeated listening.