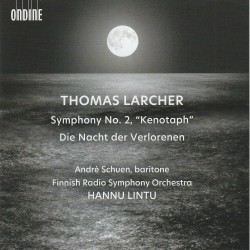 Thomas Larcher – Symphony No.2 "Kenotaph"; Die Nacht der Verlorenen
Andrè Schuen; Finnish Radio Symphony Orchestra; Hannu Lintu
Ondine ODE 1393-2 (naxosdirect.com/search/ode+1393-2)
The subtitle "Kenotaph" signals that the 36-minute Symphony No.2 (2016) by Austrian Thomas Larcher (b.1963) will not be easy listening. Commemorating the hordes of desperate refugees recently drowned in the Mediterranean, the music is dark, vehement and angry.
Explosive percussion and sinister suspense dominate the opening Allegro, culminating in a catastrophic blast. The sombre Adagio growls mournfully with repeated, drooping brass notes, interrupted by fortissimo shrieks before the brass groans resume. In the Scherzo, snarling dissonances and scattershot rhythms lead to an accelerando of pounding brass and percussion, and another cataclysmic climax; gentle woodwinds, offering brief respite, end the movement. The Introduzione, Molto allegro is filled with yet even more highly violent cannonades until the symphony's final two minutes, a slow, hymn-like dirge that fades into silence.
The 28-minute song cycle Die Nacht der Verlorenen (2008) is one of three works Larcher has set to words by Austrian author-poet Ingeborg Bachmann (1926-1973), a suicidal, alcoholic drug addict. Unsurprisingly, these songs are pained and depressive, beginning with Alles verloren – Everything's lost; the title song – in translation The Night of the Lost – declares, "Now, all is dark."
Powerfully dramatic, whether crooning or shouting, Andrè Schuen's burnished-bronze baritone superbly expresses all the texts' tortured angst, while the orchestra, including accordion and prepared piano, glitters, drones and surges.
Both works, emphatically performed by conductor Hannu Lintu and the Finnish Radio Symphony Orchestra, grabbed and held me with their incandescent sonorities and unremitting, ferocious intensity.