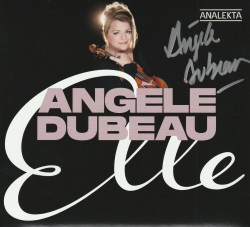 Elle
Angèle Dubeau; La Pietà
Analekta AN 2 8754 (analekta.com/en)
With the debonair virtuosity and unmatched passion of her playing, Angèle Dubeau is at the peak of her powers today. She is the consummate master of mood and atmosphere, with the ability to coordinate colour and structure to a rare degree. On her 2022 recording, Elle, Dubeau leads her celebrated ensemble – La Pietà – in interpreting repertoire by 13 women-composers spanning the 12th century of Hildegard von Bingen to the 21st century of Rachel Portman, Dalal and Isobel Waller-Bridge.
Every past performance by Angèle Dubeau & La Pietà was immersed not simply in the harmonious combination of musical sounds but in the divine harmony of the cosmos. The performance on this disc is no exception. By the time you traverse its music and get to Mémoire by Katia Makdissi-Warren you will realize that it is indeed something special, as the piece features Inuit throat singers Lydia Etok and Nina Segalowitz. There's fire in virtually every phrase as the instruments of La Pietà and the Inuit voices meld and breathe almost audibly as if immersed in the very mysteries and wonders of music.
Deeply meditative performances on O Virtus Sapientiae by von Bingen and the solemn Libera Me of Rebecca Dale bring expressive insight into those works. La Pietà also mesmerise with the minimalism of Waller-Bridge's Arise. The beguiling performances conclude with Ana Sokolović's Danse No.3. A champagne disc – its fizz and finesse grabs you by the ears.