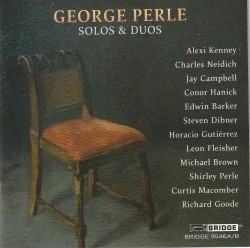 George Perle – Solos & Duos
Various Artists
Bridge Records 9546A/B (bridgerecords.com)
George Perle (1915-2009) might be compared to Hindemith as a composer concerned with tonal as well as motivic manipulation, highly developed, recognizable structures and just plain beauty. Where Hindemith stayed with more consonant tonalities and clearly defined melodic structure, in a word, a classicist, Perle follows a more Romantic path, in the sense of his rhythmic and metric freedom, as well as a much more challenging tonal language.
This two-disc collection, Solos & Duos, features works for a range of instruments, another echo of Hindemith. Perle, like Hindemith, produced effective music to exploit the instruments he wrote for. Solo works for piano, bassoon, violin, cello, contrabass and clarinet are interspersed on the discs with several works for piano with cello and one with clarinet and piano. Solo works are perhaps an acquired taste, but I find Perle's explorations via Monody II (1962), the double bass work played with tremendous verve by Edwin Parker, a complete treat to hear. Ditto Bassoon Music (2004) in an equally compelling presentation by Steven Dibner.
Every decade from the 1940s until the 'aughts is represented. Clarinetist Charles Neidich plays the Three Sonatas for Solo Clarinet (1943, the earliest works) as well as Sonata quasi una fantasia (1972), together with Michael Brown on piano. Both are performed with considerable flair. Pianists Leon Fleisher, Richard Goode and Horacio Gutiérrez, perform works written for each. Musical Offerings from 1988, references obliquely Fleisher's unpleasant departure from his directorship of the Tanglewood Music Festival. Ballade, written for Goode in 1981, allows him to explore Romanticism through a modern lens. Nine Bagatelles (1999) (average length/bagatelle under one minute) are wittily conveyed by Gutiérrez.
But the star among stars on this twin pack, apart from Perle himself, is cellist Jay Campbell. What a glorious rich cello voice, and what terrific agility from the bass string right up into thumb position! His selections cover the most ground on the recording, in number of works played (four), as well as total length (close to 40 minutes of the two-hour total). Perle clearly loved the instrument and Campbell seems to enjoy playing his work.