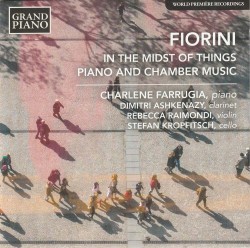 Karl Fiorini – In the Midst of Things
Charlene Farrugia; Dimitri Ashkenazy; Rebecca Raimondi; Stefan Kropfitsch
Grand Piano GP880 (naxosdirect.com/search/gp880)
Malta, smack dab in the middle of the Mediterranean, has absorbed influences from the many varied cultures that, over millennia, have settled there. Maltese composer Karl Fiorini (b.1979) is similarly ecumenical.
In Trio Lamina for clarinet, violin and piano (2002), quirky, perky neoclassicism – Poulenc crossed with Stravinsky – surrounds a slow, moody, almost jazzy nocturnal interlude. Piano Trio for violin, cello and piano (2005) mixes serialism, North African folk music and mathematical ratios to create intriguing night music – eerie gloom, helter-skelter jumpiness, squeaks, groans, slowly dripping water and a hectic escape.
There's more perturbed darkness in Two Piano Études (2007-2008), composed using Fibonacci sequences, but then, writes Fiorini, after "heartlessly abiding to purely intellectual procedures… I felt I had to revisit tonality." Jump to 2017 – the gripping Piano Sonata encompasses powerful, discordant percussiveness, a slow, quiet, tentatively tender ambulation and a motoric rush to the finish.
At 16 minutes, In the Midst of Things for clarinet, violin, cello and piano (2019) is the longest work on this CD. Its four movements juxtapose brooding melancholy with suspenseful agitation and, like all this CD's music, it's an engrossing wordless narrative, stylistically accessible yet elusively mysterious.
Maltese pianist Charlene Farrugia, New York-born clarinetist Dimitri Ashkenazy (Vladimir's son), Italian violinist Rebecca Raimondi and Austrian cellist Stefan Kropfitsch made these world-premiere recordings in 2019 and 2020 with Fiorini present. Undoubtedly, he was justifiably pleased with what he heard. So was I.