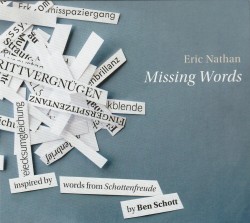 Eric Nathan – Missing Words
Various Artists
New Focus Recordings FCR314 (newfocusrecordings.com)
"The false sense of movement when, looking out from a stationary train, you see another train depart." There's now a word for it – "Eisenbahnscheinbewegung" (Railway-Illusion-Motion) – one of 120 German compound words invented by Ben Schott for his 2013 English-language book Schottenfreude, furnishing whimsical one-word terms for assorted common, disorienting experiences.
Eisenbahnscheinbewegung is also the title of the first of 23 mini-tone poems in six sets of Missing Words, spanning 84 minutes on two CDs. In them, multi-award-winning American composer Eric Nathan (b.1983) employs onomatopoetic sound effects, abruptly punctuated, irregular rhythms and wildly varied instrumentation to depict many of Schott's disconcerting, often uncomfortable, psychological states.
Some examples: Eisenbahnscheinbewegung combines railroad noises with glissandi and shifting pulses to evoke that familiar unsettled feeling; lurching glissandi illustrate Leertretung (Void-Stepping) – "Stepping down heavily on a stair that isn't there;" fanfares in Brillenbrillanz (Spectacles-Luminosity) herald "The sudden, innervating clarity afforded by new glasses;" Beethoven's hastily scribbled drafts for his Ninth Symphony inspire the aggressive, motorized grumblings of Ludwigssyndrom (Ludwig's-Syndrome) – "Discovering an indecipherable note in your own handwriting;" halting, quiet rumination in the concluding Rolleirückblende (Rollei-Flashback) reflects "The flood of memory released when looking at old photos."
Performing Missing Words I to VI are, respectively, the Boston Modern Orchestra Project, American Brass Quintet, cello-piano duo Parry and Christopher Karp, the International Contemporary Ensemble, Neave Trio and Hub New Music. I'm sure they all had fun playing these very imaginative pieces, all fun to listen to as well.