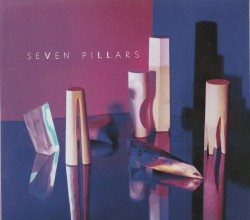 Andy Akiho – Seven Pillars
Sandbox Percussion
Aki Rhythm Productions (andyakiho.com)
Critically acclaimed new music composer Andy Akiho has created a captivating and powerful commission for the Sandbox Percussion quartet in the form of Seven Pillars, the collaboration a labour of love between friends spanning eight years.
Written as a multimedia chamber work, even without the intended video presentation included, the music is mesmerizing from the instant it opens. The complexity of the work belies the relative simplicity of the acoustic percussion tools at hand: bottles, glockenspiels, drums, wood blocks, metal pipes, sandpaper, marimbas, kick drum. Akiho takes full advantage of the skill and inventiveness of the individual performers by dedicating solo tracks to each, so that he can explore the nuances and textures of the simple objects. It is in the delivery that the writing takes flight. The remaining seven movements are for the full quartet, showing off not only the compositions but the slick performance and tight comradeship of the group.
Akiho and Sandbox Percussion commissioned 11 video artists to create original films for Seven Pillars – one film for each movement of the work – however the hard copy of the CD makes no mention of this. It does however include a complex insert, a complicated paper cutout designed almost as a stage setting in lieu of the visual films. These took some studying, slowly revealing explanations of the form of each movement in relation to the work as a whole, and spelling out the instruments used ("brake drum" for instance). But the cards can't quite replace the brilliance of the collaborative videos that encompass the worlds of dance, animation, experimental narrative film, time-lapse and more. They are also a lot more fun, as you can see here: youtube.com/watch?v=EXHORWr6xQ8.