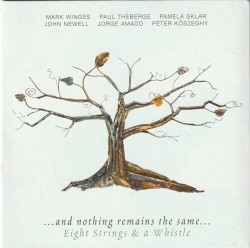 …and nothing remains the same…
Eight Strings & a Whistle
Ravello rr8061 (ravellorecords.com/catalog/rr8061)
With the their latest musical salvo, the noted trio Eight Strings and a Whistle has yet again established themselves as one of the most compelling Baroque/classical/Romantic trios on the scene today. Since 1998, this superb, acoustic, international coterie (featuring Suzanne Gilchrest on flute, Ina Litera on viola and Matt Goeke on cello) has collaborated with some of the world's most significant contemporary chamber music composers and performing artists. Included in this new offering are intriguing, multi-movement works, with contributions from Mark Winges, Paul Théberge, Jorge Amado, Péter Köszeghym, Pamela Sklar and the transplendent John Newell.
First up is Winges' Loki's Lair and as the title would suggest, it is a haunting, mystical, mischievous and unpredictable work, to which the spare trio format lends itself magnificently. Litera and Goeke merge into a sinuous dance, punctuated by their dynamic arco and pizzicato skills – almost as if their human bodies had merged with the warm, wooden instruments themselves; and Gilchrest's stirring flute work is resonant, contextual and a celebration of perfect pitch.
Théberge's six-movement Maqām brazenly dips into our ancient engrams, seemingly exploring our proto-human awe, reverence and also fear of the natural world. The trio effortlessly bobs and weaves through complex modalities on this stunning musical odyssey. Sklar's Two Journeys is an intimate, soul voyage in two movements: Third Eye and The Inward Journey, both of heartrending beauty… manifested by Gilchrest's rich flute artistry.
The dissonant and challenging title track was born out of the mind of American contemporary composer Newell, and is a glorious standout on this thought provoking, brilliantly conceived and thrillingly performed recording.