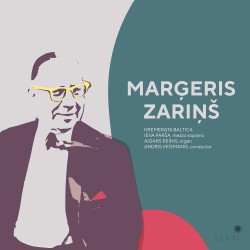 Marģeris Zariņš – Orchestral Works
Ieva Parsă; Aigars Reinis; Kremerata Baltica; Andris Veismanis
LMIC SKANI 128 (skani.lv)
While comprising only a small portion of the European geographical landscape, the Baltic countries have contributed a disproportionately significant number of composers whose works are truly remarkable and impactful. Such is the case with Marģeris Zariņš, the 20th-century Latvian composer and author who wrote a wide range of musical material for an equally diverse range of instruments and ensembles.
The two largest-scale works on this disc are both organ concertos, composed for organ and chamber orchestra and augmented with two electric guitars, a jazz percussion set and harpsichord. While the use of such instruments might sound eccentric, the results are undeniably spectacular, successfully blending genres and producing an utterly unique sonic effect.
Both concertos, Concerto Innocente and Concerto Triptichon, cross numerous stylistic boundaries: Innocente begins with a forceful and driving first movement and ends with a playful, carnival-esque finale; Triptichon, although less childlike, is no less energetic, and the first movement's classical/jazz hybridization is inexplicable through prose – it must be heard to be believed!
While these two concertos form the bulk of this disc's material, Zariņš' compositional virtuosity is displayed and reinforced through three additional works: Four Japanese Miniatures, which combine 20th-century Orientalism with atonality to great effect; the Partita in Baroque Style, which is amusingly "Baroque" the same way that Prokofiev's First Symphony is "Classical"; and Carmina Antica, which takes ancient themes, both musical and topical, and reveals them in a modernized vernacular.
From electric guitars and jazz to atonality, Zariņš wrote it all, and there really is something here for everyone. But even the most ingenious music cannot exist without interpreters, and Zariņš' works receive expert treatment from the renowned international orchestra Kremerata Baltica, their conductor Andris Veismanis and soloists Ieva Parša and Aigars Reinis.