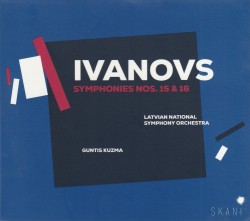 Jānis Ivanovs – Symphonies 15 & 16
Latvian National Symphony Orchestra; Guntis Kuzma
LMIC SKANI 126 (skani.lv)
I'd never heard any of the 21 symphonies by Latvian composer Jānis Ivanovs (1906-1983) before listening to the two on this CD, each lasting about half an hour, both filled with dark sonorities, propulsive energy and clamorous dissonances.
Violence and disaster dominate Ivanovs' Symphony No.15 in B-flat Minor (1972), subtitled "Symphonia Ipsa." In the opening Moderato, quiet, tentative apprehension is suddenly shattered by brutal explosions. Heated struggle ensues in the Molto allegro's agitated, snarling rhythms and desperate pleading. The grim, mournful Molto andante (Adagio) conjures, for me, a desolate battlefield strewn with bodies; brief, snide, sardonic phrases seemingly comment on the absurd futility of the preceding bloodshed. Nevertheless, martial mayhem returns in the Moderato. Allegro with cacophonous fanfares and pounding percussion before the symphony ends in a slow, ghostly procession.
Restless, fluctuating moods pervade Ivanovs' Symphony No.16 in E-flat Major (1974), perhaps memorializing the victims of No.15. In the Moderato. Allegro moderato, gloomy, throbbing despair, sinister foreboding and dissonant shrieks are intermittently relieved by unexpected, hymn-like concordances and even touches of Sibelius. The Allegro busily churns with mechanized rhythms leading to the distressed Andante. Pesante. Here, dispirited resignation turns into anger and determined resistance until a gentle bassoon solo intones consolation. The Allegro moderato drives relentlessly to a strident triumphal chorale, ending in a simple major chord, the first happy moment on this CD.
Powerful music powerfully performed by conductor Guntis Kuzma and the Latvian National Symphony Orchestra.