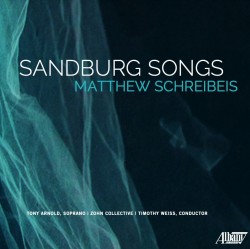 Matthew Schreibeis – Sandburg Songs
Tony Arnold; Various Artists
Albany Records TROY1856 (albanyrecords.com)
Hong Kong-based American composer Matthew Schreibeis' elegantly urbane music seems eminently suited to capturing the pastoral imagery of Carl Sandburg's poetry, which forms the second half (or so) of the repertoire of this album, Sandburg Songs.
Schreibeis' voice is unique. His songs appear to come from a pen dipped in the ink of Erik Satie and Alfred Schnittke. However, being his authentic self in all of this music, Schreibeis' notes leap in divergent directions into a mysteriously poignant realm completely of his own creation. He is also stoically authentic to melodic and harmonic flights made in a spectral dimension not unlike Gérard Grisey.
The composer's sound world seems to unfold in a series of moist landscapes that dissolve one into the other. His conceptions are extraordinarily vivid though, and he can conjure the reality of an extremely complex landscape with relatively spare noted phrases written for the piano or guitar as he does on the piece, Inner Truth and the cycle, They Say.
The considerable range of his compositional palette is revealed twice on this recording. The curtain rises on the clarinet-violin duet Noticing and on In Search of Planet X, where a piano makes it a trio. Schreibeis' power is unveiled on the fully orchestrated Sandburg Songs cycle, replete with piano, strings, reeds, woodwinds and percussion from the Zohn Collective conducted by Timothy Weiss. Carl Sandburg's breathtaking verse soars in the keening soprano of Tony Arnold.
Editor's note: Matthew Schreibeis was originally scheduled for a composer residency at the Faculty of Music, University of Toronto in this month but that has been postponed due to the Omicron variant. A new work for violin and vibraphone written for faculty members Mark Fewer and Aiyun Huang is now scheduled to have its premiere at the soundSCAPE Festival in Italy this July (soundscapefestival.org) where Fewer, Huang and Tony Arnold will be among the featured musicians. Schreibeis' Toronto residency is tentatively planned to take place this fall.