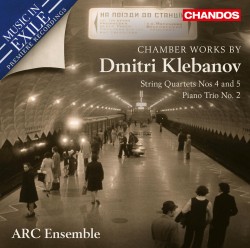 Chamber Works by Dmitri Klebanov
ARC Ensemble
Chandos CHAN 20231 (rcmusic.com/arc-ensemble)
After his Symphony No.1 (1947), "dedicated to the memory of the martyrs of Babi Yar," was performed in his native Kharkiv and then in Kyiv (where, in 1941, Nazis had massacred over 30,000 Jews at the Babi Yar ravine), Jewish-Ukrainian composer Dmitri Klebanov (1907-1987) was vilified as "unpatriotic" for memorializing Jewish civilians rather than Soviet soldiers. The Union of Soviet Composers banned the symphony and Klebanov lost his posts as chairman of the Composers Union's Kharkiv branch and head of the Kharkiv state conservatory's composition department. He was eventually "rehabilitated."
This latest in the Music in Exile series by Toronto's ARC Ensemble (Artists of the Royal Conservatory) presents violinists Erika Raum and Marie Bérard, violist Steven Dann and cellist Thomas Wiebe in Klebanov's String Quartets Nos.4 and 5. The joyous No.4 (1946), filled with singable, folk-like tunes, is dedicated to the memory of composer Mykola Leontovych, a Ukrainian separatist murdered by the secret police in 1921. It includes two melodies by Leontovych familiar to Ukrainian listeners, one of them known in the West as the Christmassy Carol of the Bells.
No.5 (1965) is more "serious," its melodies tinged with dissonance and pessimism, with heavily accented rhythms – it's strong, attention-riveting music. Pianist Kevin Ahfat joins Bérard and Wiebe in the highly Romantic Piano Trio No.2 (1958). Here, warm, tender lyricism alternates with splurges of invigorated celebration, ending as sweetly as it began.
There's real beauty on this disc, all beautifully played.