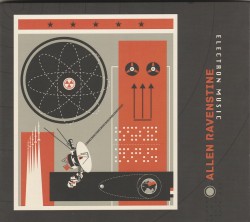 Allen Ravenstine – The Tyranny of Fiction: Electron Music; Shore Leave; Nautilus; Rue du Poisson Noir
Allen Ravenstine; Various Artists
Waveshaper Media WSM-05/06/07/08 (allenravenstine.com)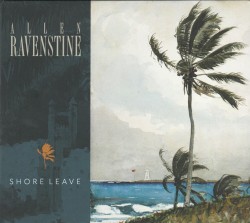 A quartet of EP discs frame an artistic effort by Pere Ubu founder Allen Ravenstine, which together bear the cryptic title The Tyranny of Fiction. Each one is about a half-hour's worth of sonic content; attractive covers reference the respective disc titles, and on each, a micro-fiction. These shorter-than-short stories, which may or may not link to the music (I'd call it likely, with not much to go on), provoke the imagination and more than satisfy a narrative arc. Each is a slice of a longer story, a tile stolen from a mosaic.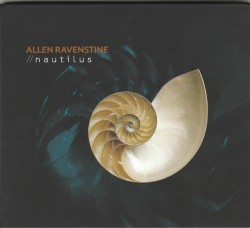 And why not allow mosaic to describe how the music and fictions interact? Maybe here I'm closing in on the essential tyranny. Listening to these while bearing in mind their story, see if you don't feel compelled to write your own novel. Does the story demand attention while the music rolls by? Do words determine the music?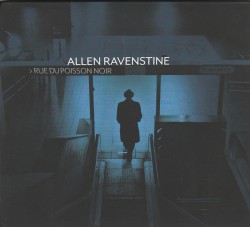 My favourite is the fourth disc, Rue du Poisson Noir, which features tracks with titles like Rear Window, Brothers Grimm, Open Season, complete with a menacing beast snarling at the end of a mysterious hunt through the dusk of a musical forest, with rattles and shrieks punctuating a bass ostinato. Who's doing the hunting, on whom is the season open? Maybe there's a clue in the text: "I was here when the dinosaurs lumbered… and I will be here when the time comes and the bell tolls…" This is film noir without dialogue or visuals. The title track combines snippets of spoken words, street noise, rainfall and Tom Waits-style clarinet lines (sampled? There's no clarinet credit!); an intro for a monologue that never begins. Delightful nonsense verse accompanies the first track, Doff Downie Woot, more James Joyce than Ogden Nash or Edward Lear.
The tracks range from two to six or seven minutes: mosaic fragments, or vignettes, like the stories; they mostly heel to a prog-pop aesthetic: interesting harmonic language but never jarringly dissonant. The first disc, Electron Music, features almost exclusively electronic sounds, with some acoustic piano in there as well. Its final track, 5@28, at nearly ten minutes' length, extends itself beyond its welcome. Otherwise, the array of newer and older synthetic-sound instruments (theremin and ondes martenot, as well as prepared piano and guitar) are deployed in many ways: at times rhythmic, others lyric and still others wandering about or staying in place, always evocative, distinctive. The accompanying story is deeply sad, and then terrifying.
The other two discs are related by a maritime theme, although not by their fictions. The story on Shore Leave captures envy and regret; Nautilus is a ghost story told in detached first person. The individual tracks of Shore Leave are gorgeous brief musical scenes. Nautilus is more unsettled and angsty. Titles like Ninety Miles to the Spanish Harbor, Fog (Devil's Island Mix) and Red Skies at Night suggest Ravenstine is a sailor as well as a musician and fabulist. For those cool enough to have been Pere Ubu fans, maybe the material will sound familiar; to my ear it's all more listenable and more fun.