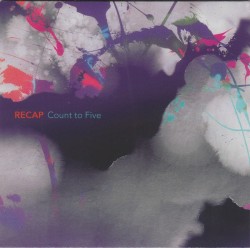 Count to Five
Recap w/Transit New Music
Innova (innova.mu)
The story begins with four New Jersey middle schoolers Arlene Acevedo, Alexis Carter, Tiahna Sterlin and Aline Vasquez who began studying percussion with Joe Bergen, a member of the Mantra Percussion ensemble. Then in 2020 at ages 19 and 20 they formed Recap, a professional percussion quartet of BIPOC women.Recap seeks to reevaluate the white-male-dominated world of percussion within the contemporary classical music scene. As Acevedo said, "We're young women of colour doing this... and you can too!" The results are impressive and they've now released an exciting debut album.
Count to Five features six works, one each by Angélica Negrón, Allison Loggins-Hull, Ellen Reid, Lesley Flanigan, Mary Kouyoumdjian and Caroline Shaw. Puerto Rican composer Negrón's surreal Count to Five opens the album. In it, everyday objects like shuffled playing cards, squeezed bubble wrap, dragged chairs and bowed and tapped wine glasses create an intimate sonic atmosphere interrupted by prerecorded children's and other sounds; a harmonica note is incessantly repeated. And yes, the performers count to five, whispering.
Another highlight is New York experimental musician and composer Flanigan's impressive Hedera which draws from another experimental music lineage, perhaps more Laurie Anderson than John Cage. Hedera features Flanigan's multitrack vocalise, supported by Recap's tonally ever-modulating bass drum and tom-tom swells. For 20 minutes, their pulsing 16th-note waves propel the work which increases in density and emotional intensity while Flanigan's voice builds into a massive choir. In the end the drums and choir float away like clouds on a hot summer's day.