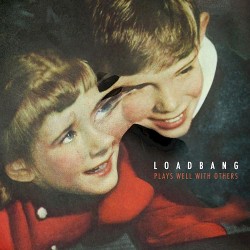 Plays Well With Others
Loadbang
New Focus Recordings FCR307 (newfocusrecordings.com)
The brass and woodwind ensemble, loadbang, explores what appears to the harmonious nature of humanity on Plays Well With Others, aptly titled because the quartet is expanded, joined in this odyssey by a 12-person string section plus piano. The result is an extravagantly sumptuous sound-world. The airy sculpting of this music by the horns dwells in an exquisitely dramatic recitation by Jeffery Gavett together with Andy Kozar (trumpet), William Lang (trombone) and Adrian Sandi (bass clarinet), and orchestral accompaniment.
Loadbang performs this avant-garde repertoire with architectural authority and elegant rhetoric. There are ink-dark, gossamer whispers and deep growls on Taylor Brook's Tarantism and the work progresses with long-limbed elegance, as if spinning a beguiling web with the (principal) tarantula character. Riven, by Heather Stebbins, pulsates with appropriate irregularity before it shatters along its elliptical harmonic grain.
Eve Beglarian's You See Where This is Going, with its narration of a surreal poem, sees strings, piano and horns entwining until the work is twisted into a powerful musical edifice. Reiko Füting's Mo(nu)ment for C/Palimpsest returns us to the dark world of terrorism made more sinister by the hushed performance. Scott Wollschleger's CVS offers another sinister take on socio-political extremism. All of this leads to the dynamic sound-palette of Paula Matthusen's Such Is Now the Necessity – a most appropriate finale to this hypnotic repertoire. Anyone reacting well to the mystery and surprise of music will certainly take this disc to heart.