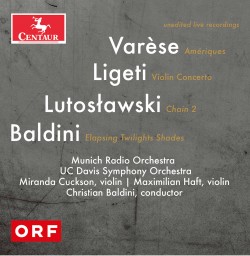 Varèse, Ligeti, Lutosławski, Baldini
Miranda Cuckson; Maximilian Haft, Münchner Rundfunkorchester; UC Davis Symphony Orchestra; Christian Baldini
Centaur Records CRC3879 (naxosdirect.com/search/crc3879)
What to do when the music stops? If you're Christian Baldini, music director of the University of California at Davis Symphony since 2009, you rummage through your archives, choose your best performances from the past and publish them with the caveat "unedited live recordings." There are some real collegiate gems to be heard here, notably two of the finest violin concertos to have been composed in the late-20th century.
Ligeti's Violin Concerto from 1994 can be a challenge for all involved, but for the marvellous soloist Miranda Cuckson it's a piece of cake. Most of these difficulties occur in the bizarre third movement, where the horns must do their best to perform solely on the overtone series (i.e. without the use of valves) and the wind players are compelled to hoot away on a quartet of decidedly screechy quarter-tone ocarinas. Fear not though, as the stylistic range of this five-movement work is captivating enough to appeal to many tastes. The concerto concludes with the insertion of a lengthy solo cadenza of unacknowledged origin; I for one would like to know its author (possibly Thomas Adès?) and, while we're at it, the identity of the jackass whose hard-heeled footsteps break its magic spell on stage.
Though Lutoslawski's 1985 violin concerto is clearly less technically demanding than Ligeti's, Maximilian Haft's pugnacious performance of Chain 2 is nonetheless commanding and stylish and the orchestra is clearly much more comfortable and capable in this music. Two purely orchestral works are also on offer. A performance of Varèse's 1927 version of his brutalist tone poem Amériques, while decidedly short on nuance, displays a youthful enthusiasm for the volcanic eruptions that pervade the work, though the 2015 pick-up of the gargantuan, screaming orchestra is lacking in depth and detail. It also has something unique going for it: midway through the printed score there is a trombone solo marked with the lyrics "Ha, Ha, Ha, Ha!"; here, that text is shouted through a megaphone! No other recording I know observes this detail.
A short work from Baldini's own hand, Elapsing Twilight Shades, opens the disc with a rambling essay characterized by loud orchestral outbursts followed by quasi-improvised noodling and percussive rumblings in a performance by the very adult Munich Radio Orchestra at the Salzburg Festival in 2012.