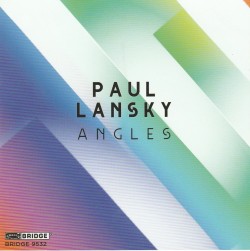 Paul Lansky – Angles
Various Artists
Bridge Records 9532 (bridgerecords.com)
The sound of augmented intervals on acoustic guitar brings Joni Mitchell to mind at the immediate opening of Slow Train – the first movement of Four's Company – on this disc of Paul Lansky's chamber pieces. I don't hear a slow train, but I can imagine travelling on one through the countryside, enjoying an impromptu performance in one of the compartments. Pseudo Pavanne continues the genial mood. Movement four is Vivaldiana, LOL. Brief, truly modest liner notes incline me to like and respect this composer; his satisfying harmonic palette and calm textures refresh the spirit, his dry sense of humour is a wink and a nod. The Curtis Institute Guitar Quartet look like a bunch of kids, but they can play!
The title track is a work for piano trio in four movements as well. The titles give further proof that Lansky doesn't take life too seriously, while writing effective and fresh-sounding music. With Pluck dances along in a happy minimalist vein; Take a Bow revisits the same kind of open-string harmonies featured in Four's Company, approaching a mood of introspection if not melancholy. About a Minute Waltz flips past as a scherzo movement, and A Sad Song is just that. Find your own words, weep if you will, but there's a quickening that consoles about two minutes in.
Springs is what a conversation among small mechanical clocks might sound like, until the heavies show up to get us all up dancing. Sō Pecussion keep things bopping along hypnotically. Color Codas, for piano four hands (Quattro Mani: Steven Beck and Susan Grace), provides kinaesthetic takes on three linked colours: In the Red, Purple Passion and Out of the Blue.