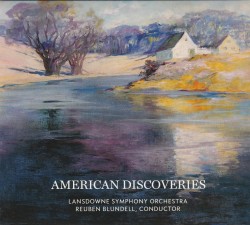 American Discoveries
Lansdowne Symphony Orchestra; Reuben Blundell
New Focus Recordings FCR 286 (newfocusrecordings.com)
So gratifying listening to the Lansdowne Symphony, a community orchestra conducted by Reuben Blundell, performing three American female composers' previously unrecorded orchestral works. City Trees (1928) by Priscilla Alden Beach (1902-1970) is an under five-minute work in ABA ternary form. This is a tonal walk through the woods, with romantic and impressionistic genre, lush orchestral harmonies and outer sections enveloping a louder intense winds section. Many of Beach's works have been lost, so thanks to editor Clinton Nieweg and the Philadelphia Free Library Fleisher Collection for producing this new orchestral edition.
Linda Robbins Coleman's For a Beautiful Land (1996) pays homage to her Iowa home state in three episodes. Love the very dramatic and contrasting playful sonorities such as the percussion roll opening and closing crash, first episode waltz's quiet bird-like wind instrument twitters, faster 6/8 section flute duet, and happy rhythmic repeated melodies building to an unexpected silent pause.
Behemoth, in five short movements (1976) by Alexandra Pierce is a unique modern tone poem inspired by the Book of Job from the Old Testament, and by humanity's struggle with existence. The opening more-atonal, full-orchestral scary movement repeats snare "pops/clicks" throughout. The second movement is bouncy and delicate with contrasting temple blocks. Colour change in the fourth, mainly featuring the percussion section, which leads to a fun final movement with a jazz-tinged full orchestra build with closing horns.
Blundell leads the orchestra to top-notch performances. Short (30'22" minutes in length) but sweet!