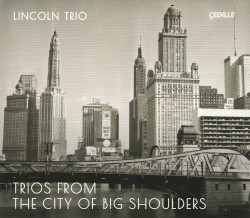 Trios from The City of Big Shoulders
Lincoln Trio
Cedille CDR 90000 203 (cedillerecords.org)
This CD's press release calls them "revered Chicago composers," although Chicago-born Ernst Bacon (1898-1990) lived nearly all his life composing and teaching elsewhere. Conversely, Michigan-native Leo Sowerby (1895-1968) spent most of his life as an organist-choirmaster in the "City of the Big Shoulders" (a line from Carl Sandburg's poem Chicago).
Bacon's 31-minute Piano Trio No.2 (1987) begins with a gloomy, wandering Lento. In Deliberate March Time sounds like an old-fashioned hiking song. The sauntering strings and shimmering piano runs of In an easy walk are briefly interrupted by sudden, stormy dissonances. Gravely expressive is a rumination for cello, marked "as if quietly singing," over piquant piano chords, followed by Allegro, a syncopated foot-stomper with country fiddling and bar-room piano strides and riffs. Commodo provides a gentle interlude before the final Vivace, ma non presto based on the folksong Green Mountain. It's really quite a trip!
Sowerby's three-movement, 37-minute Piano Trio (1953) is made of much sterner stuff. Slow and Solemn is granitically ponderous, despite a not-"slow," not-"solemn" middle section. Quiet and serene paints a misty cityscape with a daydreaming piano and tender violin until the movement's title is belied by markedly increasing tension and volume. Fast; with broad sweep lives up to its name – it's a perpetuum mobile of heavily rhythmic melodies culminating in a powerful, final accelerando.
The internationally acclaimed, Chicago-based Lincoln Trio delivers everything these disparate works could ask for, including vivid colours, dramatic expressivity and sensational virtuosity.