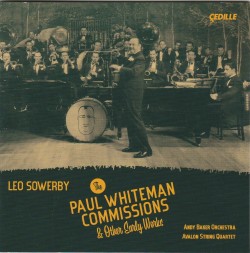 Leo Sowerby – The Paul Whiteman Commissions & Other Early Works
Andy Baker Orchestra; Avalon String Quartet
Cedille CDR 90000 205 (cedillerecords.org)
In 1946, Leo Sowerby, dubbed "Dean of American Church Music," received the Pulitzer Prize for his oratorio The Canticle of the Sun, one of his large body of religious-themed compositions. He also composed many secular orchestral and chamber works.
While still in his 20s, Sowerby, already a much-performed composer, created two jazz-infused works for bandleader Paul Whiteman's Revolutionary Concerts. The 11-minute Synconata premiered in New York in December 1924, just one month after the debut of Gershwin's Rhapsody in Blue, another Whiteman commission. The enthusiastically received, colourfully scored music – downbeat, upbeat and raucous – prompted Whiteman to commission Sowerby for a second, much more ambitious work.
The grin-inducing music of the four-movement, 25-minute Symphony for Jazz Orchestra "Monotony" (1925) depicts the eponymous status seeker of Sinclair Lewis' satirical novel Babbitt at the theatre (Nights Out), an illegal Prohibition-era cocktail party (Fridays at Five), church (Sermons) and a concert (Critics). It's great fun, tuneful and rhythmically vivacious. Yet both works, awkward fits for standard symphony orchestras, disappeared. (Rhapsody in Blue required re-orchestration for symphonic performances.) For these world-premiere recordings, Chicago music-theatre and classical instrumentalists were recruited to form the Andy Baker Orchestra, with Baker conducting.
The Illinois-based Avalon String Quartet contributes three works imbued with the ingratiating spirit of folk music: the nine-minute Serenade for String Quartet (1917), the 29-minute String Quartet in D Minor (1923) and, with Canadian pianist Winston Choi and bassist Alexander Hanna, the brief Tramping Tune (1917).
A thoroughly delightful disc!