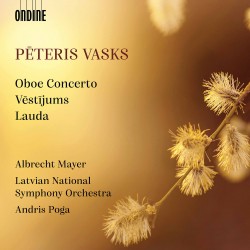 Pēteris Vasks – Oboe Concerto; Vestijums; Lauda
Albrecht Mayer; Latvian National Symphony Orchestra; Andris Poga
Ondine ODE 1355-2 (naxosdirect.com/search/ode+1355-2)
The newly released album of music by Latvian composer Pēteris Vasks features the first recording of his oboe concerto written for the centenary celebrations of Latvia's independence in 2018 and performed by one of the today's leading oboe soloists, Albrecht Mayer.
Accompanied by the Latvian National Symphony Orchestra under the baton of Andris Poga, Mayer dazzles with his technical facility as well as his beautiful interpretive phrasing, bringing this programmatic work to life. With a familiar feel akin to the rhapsodic Vaughan Williams concerto for oboe and string orchestra, this pastoral concerto uses contrasting textures ranging from long lyrical phrases to light and sparkling gestures, inducing a symphonic dialogue between the solo oboe and woodwinds in the orchestra. Modelled after the experience of human life, the first movement morning pastorale depicts the bright, fresh naïveté of youth before gradually maturing through the scherzando second movement and finally evolving with the inevitable celestial ascent in the evening pastorale.
Also on this album are two earlier nationalistic orchestral works from the 1980s; Vēstījums (The Message) for two pianos, strings and percussion and Lauda, originally written for the 150th anniversary of Latvian folklorist Krišjānis Barons. These works manifested the final years of the Soviet Union and Latvia's struggle to regain its independence.