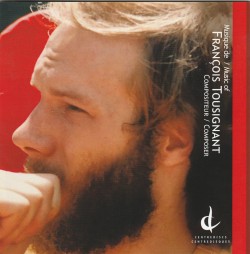 Music of François Tousignant
Myriam Leblanc; Catherine St-Arnaud; Vincent Ranallo; Ensemble Paramirabo
Centrediscs CMCCD 28821 (cmccanada.org/shop/cmccd-28821)
The varied career of François Tousignant (1955-2019) included music critic for Le Devoir (1994-2005), Radio-Canada columnist, professor at Universities of Ottawa and Montreal, and composer of over 40 works. In commemoration of the second anniversary of his death, this double-disc release features a memorable tribute concert recording of Montreal-based instrumental Ensemble Paramirabo, with three guest vocalists, brilliantly performing eight of his chamber pieces from 1973 to 1987.
The first disc features five earlier compositions. Lyrical colourful solo Conflits (1973) has artistic director/flutist Jeffrey Stonehouse musically perform the long meditative phrases with alternating high and lower pitches. It is also an introduction to Tousignant's widespread compositional tool of attention-grabbing silent breaks between phrases. Quatre incantations (1974) is another easy-to-listen-to early work, with wide-ranging soprano Myriam Leblanc vocals set to Tousignant text answering pianist Pamela Reimer's clear melodies and well-placed occasional atonalities. (1975), set to a Charles Baudelaire text, is an intelligently contemplated atonal yet never dense work, featuring cello (Viviana Gosselin) and flute (Stonehouse) plucks, detached notes, and trills and slides, magnetic tape effects (Tousignant) and baritone Vincent Ranallo's low mysterious singing and closing shining laughter. More atonality and large silent breaks in the alternating crashing and reflective piece Anatole, sans paroles (1982) for cello and piano. Reimer's virtuosic solo performance Sonate pour clavecin (1983) features a multitude of contemporary harpsichord effects.
The second album features three later works. Virtuosic contemporary Histoire (1984) opens with Reimer's contemplative piano detached notes and Charlotte Layec's held, reflective, clarinet notes. Shifts in mood, like loud piano ringing notes and clarinet swells and changes in articulation, create a slow, sad and occasional explosive mood. (1986) is set to a Rainer Maria Rilke poem. Violinist Hubert Brizard and soprano Catherine St-Arnaud perform this very contemporary piece with atonalities, string vibrations, vocal high held notes and spoken words, and more Tousignant compelling "what's next" silences between phrases. The closing Trois paysages proustiens (1987) is considered Tousignant's most famous work – set to words by Marcel Proust. Reimer and St-Arnaud are joined by percussionist David Therrien Brongo. Longer abstract percussion and piano atonalities, spoken/sung vocals, shorter mood section and silent breaks abound.
Understandably, Tousignant did not compose during his years as the music critic. His output reflects a composer with modern atonal technique, clear delicate lyrical scoring and respect for the written word.