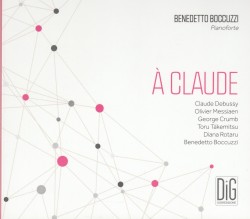 À Claude
Benedetto Boccuzzi
DiG Classic DCTT111 (naxosdirect.com/search/8054726141112)
Twentieth-century piano-repertoire specialist, Benedetto Boccuzzi (b. 1990), is not only a concert pianist but also a composer, improviser and teacher. He regularly performs in Italy and conducts workshops on contemporary piano repertoire, extended techniques and improvisation.
À Claude, Boccuzzi's debut album, is an eclectic keyboard feast, featuring works by Claude Debussy, George Crumb, Toru Takemitsu, Olivier Messiaen, Diana Rotaru and Boccuzzi himself. The programmatic conceit of the album pays homage to Debussy, before moving on to a selection of the French maître's musical heirs.
Beginning with three miniatures from Debussy's Images: Cloches à travers les feuilles; Et la lune descend sur le temple qui fut; and Poissons d'or (1907); the album sets a relaxed, impressionistic atmosphere inviting the listener to let imagination roam. Boccuzzi then very effectively renders six of American composer George Crumb's texture- and allusion-rich Makrokosmos I (1972-1973). This collection of aphoristic piano pieces describes the temperaments of the houses of the zodiac, famously using an encyclopedic range of colouristic effects including plucking the strings, producing massive tone clusters, coaxing overtones from depressed keys not played and directly quoting music of composers such as Chopin.
Three pieces of the Vingt regards sur l'enfant-Jésus (1944) by French composer Messiaen receive a muscular performance here, though sections of Regard de la Vierge exude a poignant cantabile quality. Particularly admirable is Boccuzzi's precise rendering of the demanding birdcall references throughout.