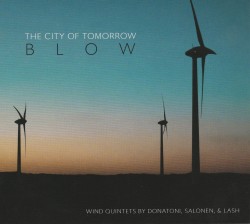 Blow – Wind Quintets by Donatoni, Salonen & Lash
The City of Tomorrow
New Focus Recordings FCR294 (newfocusrecordings.com)
Part way through the sixth movement of Leander and Hero (2015) by Hannah Lash, a ghostly flute-like voice enters the texture. As the liner notes reveal, the sound is one player blowing across the open mouth of another. When it comes to unusual directions from composers, I apparently have neither seen nor heard it all. This new release, from the spectacularly capable woodwind quintet The City of Tomorrow, delights and amazes.
Put aside that in the current circumstances this would simply be an unacceptable breach of personal safety for both performers, the intimacy of the act demands trust and care, to say nothing of technical control of "embouchure" and/or "instrument." It wouldn't surprise me to learn the effect was overdubbed onto the track, but I'm willing to bet the players didn't need to. Given how the rest of this disc is presented with complete assurance and musicality, a little thing like playing your colleague's head like a jug in a jug band would hardly be beyond them.
The title track, Franco Donatoni's stutter-stepping Blow (2000), provides the players an opportunity to show off more conventional contemporary skills. I love his music, it's always full of swing and fire, and this is no exception. The group's sound is crisp, tart and sweet, like a perfect fall apple.
Esa-Pekka Salonen closes things with Memoria (2003), music reworked partly from unpublished material, composed over a period of 20 years, and compiled to celebrate the 20th anniversary of the Avanti! Chamber Orchestra, a group he co-founded. Angst-y Finnish melancholia suits the group to a tee.