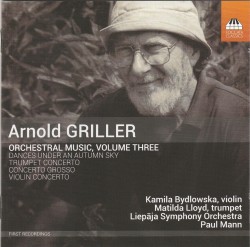 Arnold Griller – Orchestral Music, Volume Three
Kamila Bydlowska; Matilda Lloyd; Liepaja Symphony Orchestra; Paul Mann
Toccata Classics TOCC0590 (naxosdirect.com/search/tocc0590)
In 1955, while studying composition with Darius Milhaud, Arnold Griller (b.1937 in London, England) wrote his 13-minute, Coplandesque Concerto Grosso for strings, filled with long-lined, brooding melodies. Griller's father Sidney was first violin of the renowned Griller Quartet but, writes Douglas Finch, "Griller chose to withdraw from the musical maelstrom into which he was born and for most of his adult life has remained in relative seclusion." Now living in a small Cornwall village, Griller even spent 25 years teaching ESL in Winnipeg!
Three recent (2017-2018) works, each over 20 minutes, variously utilize what conductor Paul Mann calls "the Griller gamelan" – harp, xylophone, marimba, celesta, glockenspiel and harpsichord.
Griller's Violin Concerto memorializes Yodit Tekle, Toccata Classics founder/CEO Martin Anderson's partner, cancer victim at 37. The dark-hued orchestra, lacking violins, growls atonally while Kamila Budlowska's agonized violin struggles, rallies briefly with a rising tonal sequence but succumbs to snarling brass. Now alone, it sustains a long-held single note, then vanishes.
Dances under an Autumn Sky has no stated program, but its jagged rhythms, angry brass and percussion outbursts create an increasingly violent scenario, ending in tragedy. The Trumpet Concerto opens with soloist Matilda Lloyd busily meandering over fragmented, percussion-heavy, violin-less sonorities. A march past Dvořák's house begins in high spirits, then darkens, the muted trumpet playing a dirge marked "with great sadness." The concerto – and the CD – concludes with a motorized crescendo of celebratory fanfares and percussive fireworks. Finally, a happy ending!