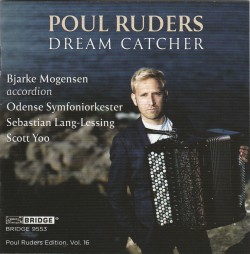 Poul Ruders – Dream Catcher
Bjarke Mogensen; Odense Symphoniorkester; Sebastian Lang-Lessing; Scott Yoo
Bridge Records 9553 (bridgerecords.com/collections/catalog-all)
Danish composer Poul Ruders is renowned for his symphonies, and his operas like The Handmaid's Tale based on Margaret Atwood's novel of the same name. Here, three Ruders instrumental works showcase his intriguing compositions.
This world premiere recording of the seven-movement Sound and Simplicity (2018) concerto is performed by Danish accordionist Bjarke Mogensen and the Odense Symfoniorkester conducted by Sebastian Lang-Lessing. I. Rain opens with high staccato accordion replicating the sound of surface-landing droplets, followed by an energetic full orchestra section. Love the percussion thunder-like rumbles. Calming sustained four-note II. Trance, presented over three octaves, makes for relaxing "simple" sounds. Mogensen's accordion performance of IV. Smoke paints a smoky soundscape with steady held notes, wide pitch range, brief controlled bellow shake and contrapuntal melodies, supported by orchestral diverse floating pitches and dynamics. Rollicking VII. Wolf Moon bounces along with faster interchanges and dynamic swells between orchestra and accordion, to the penultimate ascending line and the final accordion chord.
Dream Catcher is Mogensen's arrangement for solo accordion of Ruders' accordion and string quartet Serenade on the Shores of the Cosmic Ocean. This diatonic work features musical, hypnotic held notes, a high-pitched slow tune and closing repeated soft notes, highlighting Mogensen's virtuosic bellow control.
Previously released by Bridge, Symphony No.3 "Dream Catcher" is a two-movement orchestral extravaganza conducted by Scott Yoo. The loud percussive start transforms into a tonal, sweet-dream string section. In the second movement, faster birdlike horn trilling leads to full-steam-ahead virtuosic orchestral multi-rhythmic chase music.
Catch this great Ruders sound release!!