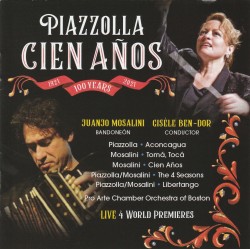 Piazzolla Cien Años (100 Years 1921-2021)
Juanjo Mosalini; Pro Arte Chamber Orchestra of Boston; Gisèle Ben-Dor
Centaur Records CRC 3844 (giseleben-dor.com)
This is another memorable release celebrating the centenary of Argentine composer/bandoneonist Astor Piazzolla (1921-1992) as conductor Gisèle Ben-Dor leads the Pro Arte Chamber Orchestra of Boston and bandoneon soloist Juanjo Mosalini.
The recording opens with a Piazzolla original Aconcagua, Concerto for Bandoneon (1979) a three-movement, true-to-his-style work, featuring rhythmic symphonic grooves, lyrical bandoneon solos with fast trills and virtuosic lines, and tight soloist and orchestra interchanges creating a danceable yet concert-hall classical-flavoured rendition performed perfectly by all concerned.
Four world premiere recordings scored for bandoneon and orchestra follow. Two Mosalini single-movement original compositions incorporate Piazzolla influences with popular/classical touches in his own soundscapes. Tomá, Tocá (Take It, Play It) is faster with repeated notes and virtuosic flourishes. Cien Años (One Hundred Years) combines tango elements with nostalgic bandoneon melodies, long phrases and bright high pitches.
Two Piazzolla works arranged by Mosalini follow. Originally in four movements, The Four Seasons of Buenos Aires is presented as one long, connected work. Piazzolla purists will respect this for its true-to-style playing. Shifts in tempos, grooves and moods, the deep cello lines, florid fast bandoneon and orchestra accompaniments are amazing, ranging from danceable and fun to serious and slow. In the closer, Piazzolla's popular Libertango, technically challenging solos now alternate with colourful orchestra lead lines above bandoneon rhythmic accents.
Fantastic performances and great music, what more could we want?