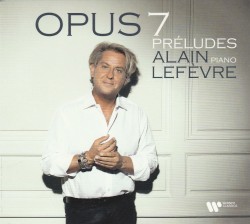 Alain Lefèvre – Opus 7 Préludes
Alain Lefèvre
Warner Classics 9029540078 (alainlefevre.com/composer)
Charismatic Alain Lefèvre is a perfect composer and pianist in his seventh release featuring seven piano preludes, six of which were recorded in spring 2019 in his native Quebec.
Composing and then performing one's own works must be exceedingly gratifying. Lefèvre started his career as a pianist, reaching international acclaim. The liner notes state he started composing in the late 1970s and first recorded his compositions in 1999. He accurately describes himself compositionally as a storyteller.
No.1 Force fragile is reminiscent of Romantic-style music with a waltz opening, sparkling high notes, contrasting lower pitches, runs against melodic held notes and loud, percussive, yet surprisingly, never-banging notes building to a happy story finale. No.3 Amour fou utilizes subtle touches of contemporary harmonic shifts, shorter repeated melodic phrases, rubato, and an unexpected triple-time faster programmatic section with staccato chords and melodies with turns, all recounting the search for true (not crazy/fou) love. No.5 Aux portes du destin, composed for a Syrian friend with cancer, is a dramatic grief-laden major/minor tonality piece enveloped by melodic high single notes, and at the ending creating a tinkle of hope. No.7 Mati, for piano and bouzouki (Thanasis Polykandriotis), was composed after a tragic 2018 fire in Mati, Greece. Recorded in Athens, the bouzouki's plucked strings and piano-hammered keys create a unique sound, especially during quasi-unison duets, melodic conversations with bouzouki high notes.
Lefèvre's Opus 7 Préludes are colourful, multi-character "best-selling" piano stories!