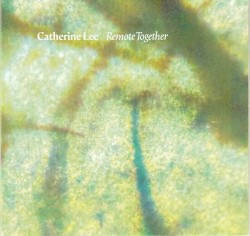 Remote Together
Catherine Lee
Redshift Records TK489 (redshiftrecords.org)
During the worldwide pandemic, Canadian oboist Catherine Lee turned this experience into a creative solo album, Remote Together. The compositions are put in a specific order to recreate the transformative experience during social isolation; loneliness to overcoming seclusion, with a new perspective on life as we know it. The album features works by Canadian and American composers from the Pacific Northwest, often incorporating the vibrant sounds of nature with the pastoral timbre of the oboe, oboe d'amore and English horn.
Although each composition brought different perspectives of the oboe family's tonal variety, the one that really stood out was the final work Silkys, co-created in 2020 by Catherine Lee and Juniana Lanning. Silkys depicts the lifecycle of the domestic silk moth with the integration of field recordings of natural sounds. You can hear the entire metamorphosis from the very beginnings of life, crawling around as a caterpillar, to being sealed in a cocoon hearing the faint world around outside, to developing and trying new wings, to finally emerging a free moth. Lee has cleverly paired this composition with images, creating a video to enhance the experience.
Lee showcases her beautiful dark tone on all three instruments and her mastery of 20th-century techniques. Remote Together is a direct reflection of current society and nature's ability to adapt to surrounding circumstances.