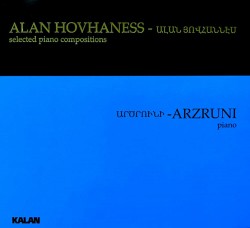 Alan Hovhaness – Selected Piano Compositions
Şahan Arzruni
Kalan 773 (kalan.com)
Drawing upon his friendship with the composer and what he describes as "stacks of handwritten manuscripts," Armenian pianist-ethnomusicologist-media personality Şahan Arzruni performs ten works by Alan Hovhaness, several unpublished, here receiving their first recordings.
Hovhaness (1911-2000) was born in Massachusetts to an Armenian father and Scottish mother. Many of his hundreds of compositions reference Armenian historical and musical traditions. Embracing as well the melodic, rhythmic, modal and colouristic resources of other diverse cultures, Hovhaness' music evokes ritualistic processions, incantations and dances in moods ranging from lamentation to jubilation.
This disc contains 34 tracks, nearly all under three minutes long. In the five-movement Invocations for Vahakn, Op.54, No.1, percussionist Adam Rosenblatt adds Chinese drums, Burmese gongs, cymbal, conch and thunder sheet to the suitably aggressive music. (Vahakn was an ancient Armenian war god.) Rosenblatt rejoins Arzruni in the eight-movement Sonata Hakhpat, Op.54, No.2. (The Hakhpat monastery complex in Armenia is a UNESCO World Heritage site, dating from the tenth century.) Unlike its martial companion piece, it begins with slow, bell-like chords; a pensive Pastoral and mournful Aria provide repose between mesmerizing, propulsive dances.
Of the solo piano works, my special favourites are the quirky Suite on Greek Tunes, the sensuous Mystic Flute and the glowing, beautiful Journey into Dawn. I enjoyed the entire CD, though, along with all of Hovhaness' music that I've heard throughout over 60 years of appreciative listening to it on disc. Quite simply, I'm a fan!