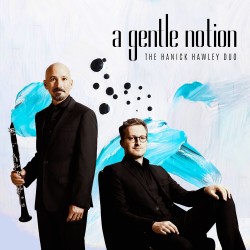 A Gentle Notion
Hanick Hawley Duo
Il Pirata Records (ilpiratarecords.com/catalog-1)
A Gentle Notion, the title work for this disc by clarinetist Richard Hawley and pianist Conor Hanick, is a short meditation by Jennifer Higdon. It's sweetly tonal and at two minutes plus, sweetly brief as well. It sets the stage for all the works on this release.
The duo open with Aaron Copland's transcription of his Violin Sonata, written in what Copland refers to as his "plain period," the early 1940s. I enjoyed wrestling with the piece myself, but to my mind it belongs on the stack of transcriptions more elegant in ideal than action: Schubert's Arpeggione, the Franck Sonata for Violin (or flute?) and the Prokofiev Sonata for Flute (or violin?). Copland transposed it down a major third to ease high tessitura, making better use of the clarinet's baritone voice; I hear Hawley suffer some difficulty preventing pitch from rising in the middle range, a forgivable but nagging flaw. There are also passages that are more suited to the bow than the tongue.
Higdon's two-movement Sonata, originally for viola, is a better fit for clarinet, maintaining the gentle mood of the title track in the opening of the first movement, and never straying far into the upper range, even as the mood darkens. The second movement has pop and energy; to my ear Higdon shows some of the tonal style of Hindemith.
Hawley is not a showy player; elegance and understatement mark his performances. An instance of flutter tonguing in the Clarinet Sonata by Pierre Jalbert is subtle, even tidy. Joan Tower's Wings for solo clarinet is a tour-de-force; Hawley nails it. His sound is icy smooth up high, and warm in the chalumeau. His musicality is honest and reliable. Hanick meets him on an equal footing; the duo plays with verve and excellent communication.