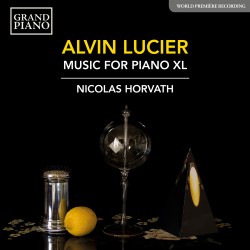 Alvin Lucier – Music for Piano XL
Nicolas Horvath
Grand Piano GP857 (naxosdirect.com/search/gp857)
American composer Alvin Lucier has found an impressive exponent in pianist Nicolas Horvath. An artist regarded for a dizzying variety of musical tastes, Horvath is especially celebrated as a leading interpreter of Franz Liszt and yet he has recorded the music of Philip Glass, Cornelius Cardew and Jaan Rääts, to critical acclaim.
In his latest release, Horvath dives headlong into a vast, single-movement work for piano and wave oscillators. He is no stranger to such endeavours, having staged past live performances running up to 12 hours in length. Here, Horvath (via Lucier) offers a sprawling brand of listening experience, supported by "slow sweep pure wave oscillators." Only single acoustic piano notes are struck throughout, echoing for minutes at a time over a backdrop of acoustic beating. (Two pure waves move up and down with a range of four octaves. The beats are directed by the piano tone's proximity to pitches from the oscillator.)
While the resulting soundworld is undeniably retro, such creations can reward the assiduous listener. This aesthetic urges a holistic mode of attentiveness. One has to empty the ears of preconceived notions of structure, melody – and even of texture. These tones and beats sear through a vacuum of space on their own sort of photon, commingling and naturalistic: unhindered sonic spectres that speak truly. In what realm could such sounds move us most? Imagine that we're listening amongst the cosmos, unbounded and flung loose into the stars.