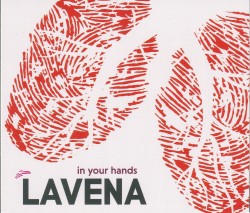 In Your Hands
Lavena
Bright Shiny Things BSTC-0145 (brightshiny.ninja)
Another stellar offering from the label Bright Shiny Things, American cellist Lavena's debut album already feels like a veteran project. Lavena champions powerfully through one perfect piece after another – a diverse and colourful collection, each as interesting and compelling as the next.
Beginning with Gemma Peacocke's Amygdala ("an exploration of the way in which anxiety comes in waves…" – oh, how timely!) this work for solo cello and electronics perfectly delivers its description. The duos by Jessie Montgomery, for cello and violin, and Ted Hearne, a powerful and dynamic setting for cello and percussion, are outstanding compositions beautifully delivered. In between is in manus tuas, a rich and melodic composition in Caroline Shaw's classic multi-layered chordal style for singing cellist, based on a 16th-century Thomas Tallis motet.
The piece Tusuula, by the brilliant and multi-talented American composer Bryce Dessner, anchors the album's solo content. Written in 2015 during the week Dessner spent as composer-in-residence at Finland's Meidän Festivaali, Tusuula is destined to become an outstanding addition to the solo cello repertoire. Lavena leaves no doubt of her commitment to every note.
Tender and yearning, My Heart Comes Undone, a valentine gift to the artist from her composer husband Judah Adashi, inspired by Björk's Unravel, gently closes the album. In this iteration it's played by solo cellist with loop pedal. This is an adventurous yet cohesive mix of compositions that manages to remain totally accessible to the contemporary newbie.