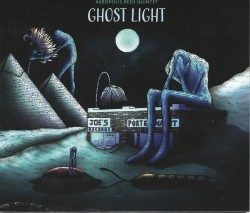 Ghost Light
Akropolis Reed Quintet
New Focus Recordings FCR292 (newfocusrecordings.com/catalogue)
I was thinking about the Crash Test Dummies' The Ghosts that Haunt Me, when the eerie, first moaning microtonal chord from the Akropolis Reed Quintet's Ghost Light sounded in my headset. Spooky! This fantastic group of woodwind players from Detroit explores life and death at the far end of the musical spectrum; toe-tapping, mysterious, in tune and in synch. The cover art of the disc brought to mind the Dummies' release from long ago. Look carefully, there's purpose to the whimsy.
All the music was commissioned. Unusual? No, but the instrumentation is: two clarinets (soprano and bass), plus an oboe, a bassoon, and… saxophone! Here is range, here is agility and grace, here are complementary colours, never the cloying homophony of a saxophone quartet or worse, clarinet choir. Listen to the blends intentionally exploited by Michael Gilbertson in the brief and chipper Kinds of Light.
That opening moan is from Rites for the Afterlife, a four-movement work inspired by ancient Egyptian rituals guiding the soul from this world to the next. Composer Stacy Garrop's unearthly timbres of microtonal clusters, executed with clean precision, draw the listener into the mystery. Unpitched whispery effects evoke reed beds by a river. Styx or Nile?
Iranian Niloufar Nourbakhsh based Firing Squad on the greatest opening sentence in literature, from Gabriel Garcia Marquez's One Hundred Years of Solitude. This melancholy, melodic one-movement work explores mortality and memory.
Jeff Scott, French horn of the Imani Winds, wrote the disc's most substantial work: Homage to Paradise Valley. This is activist music, composed to poems by Marsha Music, commissioned to commemorate the destruction of Detroit neighbourhoods and landmarks taken from the African American community during the mid-20th century, in the name of urban renewal.