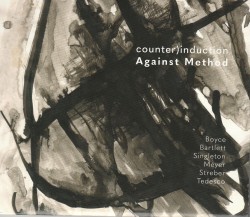 Against Method
counter)induction
New Focus Recordings FCR278 (newfocusrecordings.com/catalogue)
The New York new music collective counter)induction celebrates 20 years of committed contemporary musical performance with the release of Against Method. The five players, augmented by guests, playing music composed by members and other guests, perform six fascinating pieces: all challenging, all worth the time and effort. As one reviewer has already commented, writing anything useful about the disc is beyond challenging; best just take the thing and hear for yourself.
Clarinetist Benjamin Fingland and Caleb van der Swaagh, on cello, split the greater part of the playing. In the opening track, The Hunt by Night by Douglas Boyce, they are joined by pianist Ning Yu in a rollicking fun exploration of rhythmic, unison pointillist melody. "Ransack" describes the method: the three characters turn over every note with happy frantic energy, perhaps looking for Messiaen. The closing unisons between cello and clarinet are breathtaking.
Fingland performs a solo piece for bass clarinet and loop pedal, written by his life partner Jessica Meyer. Intimate and mysterious, the repeated breath effects sound like nothing so much as sobbing. The title is a giveaway: Forgiveness.
Each piece is my favourite. I love Ein Kleines Volkslied, the piano quartet by Alvin Singleton. Born in 1940, he's three decades older than the rest, but his piece kicks it like it's 1966. They close with the brilliant Scherzo by Argentine composer Diego Tedesco. Plucks, slaps, pitch-bends, melodic fragments, col legno… all in an ABA format. Great fun, fantastic disc.