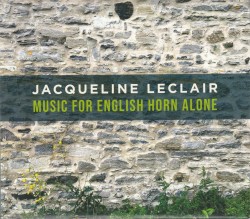 Music for English Horn Alone
Jacqueline Leclair
New Focus Recordings FCR272 (newfocusrecordings.com/catalogue)
Jacqueline Leclair's latest album Music for English Horn Alone features seven works for solo English horn, four of which – by Hannah Kendall, Faye-Ellen Silverman, Karola Obermüller and Cecilia Arditto – are spectacular premieres. Leclair, known in the music community as a contemporary music specialist on oboe, brilliantly showcases her flair for new music techniques on the oboe's darker cousin with equally stunning results, making these works an invaluable addition to the repertoire.
From the outset, Leclair's playing is exceptional; the richness of tone and beautiful, subtle articulations are displayed over the entire range. From multiphonics, flutter-tonguing, note-bending and the exploration of the extreme soft dynamic, Leclair charms with her mastery of the English horn.
Perhaps the most striking aspect of this thoughtful assortment is its ability to captivate and give rise to autonomic responsiveness to touch and visual and auditory stimulation through its exploration and depiction of the instrument's possibilities and range, whisking the listener from one culture and destination to another without the need to traverse the physical. If one had to describe this collection in a single word, it would be "borderless."