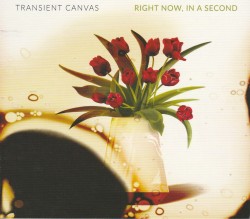 Right Now, In a Second
Transient Canvas
New Focus Recordings FCR267 (newfocusrecordings.com/catalogue)
The ephemeral nature of sound is exquisitely captured in the poetry of this new music performed by bass clarinettist Amy Advocat and Matt Sharrock, a percussion colourist heard here on marimba. Experimental music, made with incongruous instrumental pairings, often begs the question: Can sound be toyed with if only to fill the heart and mind with a sense of wonder? Advocat and Sharrock answer in the affirmative, and emphatically at that.
The bass clarinet – among the whole family of single-reed woodwinds – is probably the most diabolically difficult to master. Advocat makes light work of it all with her extraordinary virtuosity, her application of soft dynamics to create atmospheric effect, and by this I don't mean such effects that suggest the lugubrious (something she does on Jonathan Bailey Holland's Rebounds), but also something resembling a beautiful gravitas (which is evoked on resonance imaging by Crystal Pascucci).
Sharrock's radiant marimba is the perfect foil for the rumblings of the bass clarinet. His crystalline sculpting of notes informs Stefanie Lubowski's composition Right now, in a second. Meanwhile he turns his instrument into a kind of living, breathing being, as with glancing blows of mallets on wood he conjures a close dance with the bass clarinettist.
The masterful centrepiece is Clifton Ingram's Cold column, calving. This music seems to bow in reverence to the earth's ancient permafrost. As it unfolds, you get a sense of how expressively the musicians tease out the geographical metaphor of this piece with profound grandeur.