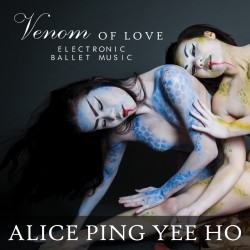 Alice Ping Yee Ho – Venom of Love
Alice Ping Yee Ho; Vania Chan; Patty Chan; Lulu
Leaf Music Digital (leaf-music.ca)
One of Canada's most acclaimed composers, two-time JUNO nominee and Dora Mavor Moore Award winner for Outstanding Original Opera, Alice Ping Yee Ho, has gifted us with a gorgeous work that almost defies characterization. This 60-minute composition deals with elements of fantasy and eroticism from a primeval, magical world; a musical composition for ballet based on the Legend of the White Snake, one of China's Four Great Folktales.
The work is compiled as 20 tracks inside four acts, which serve to guide the listener along the extraordinary journey as we turn the pages of an epic-sized book of fantasy and desire, love and rivalry between mortals and spirits, and finally the ultimate sacrifice for eternal love.
Fusing synthesized and acoustic instrumental sounds with soprano voice and percussion, this work is a dramatic dance/opera/musical theatre composition telling an ancient myth in contemporary form. The music sweeps us up so deftly we are captive travellers inside dripping caves; clusters of tonalities are richly layered with electronics and we imagine shimmering dragons, writhing snakes, and hear spectacular sounds of animals, bats and water, evoking the hues of brilliant blues, greens and greys. Of special mention is lyric coloratura soprano Vania Lizbeth Chan's voice that somehow manages to hold warmth and charm while soaring at stratospheric heights.
Commissioned by Toronto's Little Pear Garden Dance Company in 2014, the music is so evocative I almost feel like I've already seen the ballet, but I'll be sure to be in line for that production when it comes back to a live stage in the future.