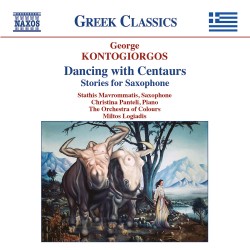 George Kontogiorgos – Dancing with Centaurs
Stathis Mavrommatis; Orchestra of Colours; Miltos Logiadis
Naxos 8.579047 (naxosdirect.com/search/747313904778)
Composer George Kontogiorgos' illustrious tonal melodies highlight this Global Music Award-winning release with four works inspired by Greek traditional songs/mythologies, juxtaposing tonal and atonal sounds, pentatonic scales, Romanticism, minimalism, jazz and pop soundscapes. Saxophonist Stathis Mavrommatis and pianist Christina Panteli rise to the occasion to master and perform these dense, challenging, stylistically diverse works with technical and musical aplomb!
The ten-movement Dancing with Centaurs (2014), for soprano saxophone and piano, superimposes ancient Hellenic traditional music ideas with Romantic tonality to musically describe these Greek mythical creatures. The second movement Idyllic starts with fast descending piano lines and then smooth sax notes lead to more tonal song-like melodies. The third movement, Dancing with Centaurs, is folk-flavoured with subtle tango undertones and high-pitched squeaky sax. There is a breathtaking change in mood by a slower, reflective sax solo and piano chords in Meditation. Jazz undertones, repeated single sax tones and marching piano groove add to the atmosphere in Battle of the Centaurs.
Ringtone (2016) for alto saxophone and piano is an amusing take, with simple cyclical melodic sax and piano lines mimicking different phones ringing simultaneously. Concertino "Testosterone" (2015) adds a string section to the duo. Solo alto sax Night Walk (2017) has a free improv jazz feel and slight tonal pitch changes at ends of phrases.
Kontogiorgos' understanding of his personal musical influences and the infrequently heard saxophone/piano instrumentation along with great playing makes for illuminating listening.