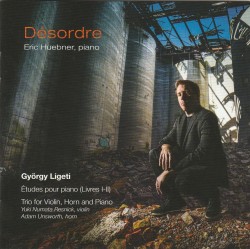 Désordre: György Ligeti – Etudes; Trio
Eric Huebner; Yuki Numata Resnick; Adam Unsworth
New Focus Recordings FCR269 (newfocusrecordings.com)
For American piano marvel Eric Huebner, myriad talents have ignited a multi-faceted career of unwavering performance prowess, equal in measure as soloist, chamber player and orchestral pianist. Huebner remains one of the most active keyboardists of his generation and if you don't already know his work, you really should.
A latest release featuring music by György Ligeti offers a homecoming of a kind. Fiendishly demanding contemporary repertoire has always been Huebner's specialty but at the heart of his musical muse is a longstanding association with Ligeti. Huebner believes the Études to represent "an entirely new musical language… fusing together disparate elements." Ligeti came to challenge himself – his own compositional craft – later in life when he penned these works.
Remarkably at home in these scores, Huebner puts his dazzling arsenal of abilities on full display, sculpting timescales and wielding rhythmic idiosyncrasies all with a veteran expertise and panache. His is a deft touch, keenly born of an exceptional musical ear and fine sense for textural expression (arguably a prerequisite in the successful interpretation of any piece by Ligeti). Rising to the challenges, Huebner writes of "laying bare the music's intricacies and keeping pace with its extreme technical demands while expressing its joy, poignancy and, at times, melancholy."
Ligeti's horn trio reveals even more of the composer's unusual universe. It is a cosmos that glimmers benevolently in the care of dedicated artists like Huebner, Yuki Numata Resnick and Adam Unsworth.