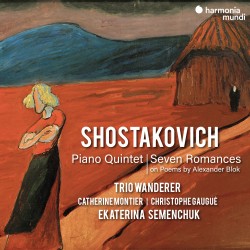 Shostakovich – Piano Quintet; Seven Romances on Poems by Alexander Blok
Trio Wanderer; Ekaterina Semenchuk
Harmonia Mundi HMM902289 (triowanderer.fr/discography)

The public, generally, does not leave a performance (or a deep listening session to a recording) of the work of the late Russian composer Dmitri Shostakovich whistling tuneful melodies. But who made tuneful whistling the barometer for success in classical music anyway? Certainly not the legions of Shostakovich admirers, for whom this 2020 release – of his Piano Quintet in G Minor Op.57 (1940) and Seven Romances on Poems by Aleksander Blok Op.127 (1967) by Trio Wanderer (Jean-Marc Phillips-Varjabédian, violin; Raphaël Pidoux, cello; and Vincent Coq, piano) – will be most welcome. For the quintet, the trio is joined by violinist Catherine Montier and violist Christophe Gaugué and the Romances are sung by the commanding mezzo-soprano Ekaterina Semenchuk.
With the piano quintet, Shostakovich presents a test of technical prowess and historical understanding to the musicians, as they deftly negotiate the multiple lexicons that comprise the composer's influences and, ultimately, his style. For example, contained within the quintet's five-part structure (Prélude: Lento; Fugue: Adagio; Scherzo: Allegretto; Intermezzo: Lento; Finale: Allegretto) are motifs, broad musical themes and harmonic junctures revelatory of Shostakovich's unabashed modernism (his so-called "ambivalent tonality" and deep admiration of Stravinsky), placed in compelling historical flux with Baroque gestures (counterpoint abounds, and there is even a G-major Tierce de Picardie that concludes the opening Prelude), along with the general, and lifelong, influence of Russian folk songs. This is the much-discussed polystylism of Shostakovich; the quintet handles such musical shapeshifting between genre and historical junctures with musicality, precision and seeming ease.
Equally compelling is the Seven Romances song cycle, where the great and sought-after Semenchuk, singing in the composer's (and poet Blok's) native Russian, shines. A recommended recording.