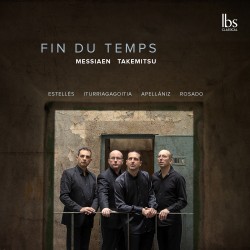 Fin du Temps
Estellés; Iturriagagoitia; Apellániz; Rosado
IBS Classical IBS72020 (naxosdirect.com/search/8436589069404)
Clarinetist José Luis Estellés is joined by violinist Aitzol Iturriagagoitia, cellist David Apellániz and pianist Alberto Rosado on this recording of the two best-known, thematically linked quartets for these instruments: Quatuor pour la fin du Temps by Olivier Messiaen, and Toru Takemitsu's compositional response, Quatrain II.
Recently, Messiaen, a Catholic mystic, has come under posthumous criticism for at least passively upholding a stance of anti-Semitism. These days it might be too controversial to even discuss the religiosity that fills his music. It's safe to say both he and Takemitsu attempted the impossible: to demonstrate timelessness with the essentially time-bound art of musical performance.
The more recent piece almost succeeds in simulating the "Fin du Temps" proposed by the earlier. With veiled and obvious references to Messiaen, Takemitsu's piece seems to sit still and reflect. For contrast, turn to the sixth movement of the Messiaen, and listen to the Danse de la fureur pour les sept trompettes; it's so rhythmically exacting to perform, and so exciting. The listener is bound by time, not released. But it's fantastic, and fantastically presented here. Overall the recording rides on the high partials generated by the four different voices, by which I mean it is bright, but never strident. Well, except as the movement closes, where apocalyptic trumpets signal the end.
One is bound to assess the performance of the solo clarinet movement: Abîme des Oiseaux. No vanity mars this performance; if there are warts in the presentation of the crescendi and diminuendi over extreme sustains, the minute wavers that mark us as human, they do nothing to diminish the clarity of intent and finely wrought performance.