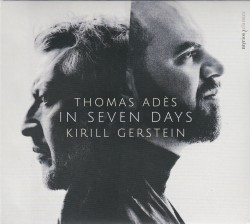 Thomas Adès – In Seven Days
Kirill Gerstein; Thomas Adès; Tanglewood Music Center Orchestra
Myrios Classics MYR027 (naxosdirect.com/search/4260183510277)
Composer, pianist and conductor Thomas Adès is, in truth, a child of the late 20th century. The acumen of his creativity and myriad of musical aptitude already scaled impressive heights back in the 1990s. Today, he continues to traverse the confused streams and nebulous annals of our 21st-century musical world. Neither fad nor trend nor fickleness of style can deter him; he is a teller of truths and a composer of our time.
Now, inimitable pianist Kirill Gerstein has teamed up with Adès on a new record featuring keyboard works by the composer. So rarely will a collaborator embrace a composer's catalogue with just as much dedication and enthusiasm as the composer himself. A notable consequence from such commitment is the swift advancement of performance practice, often a slow-moving process that takes decades, if not centuries, to appear. With this album, one immediately detects exquisitely formed conceptions of music, determined from various angles and experimentation of interpretation. (Adès is actively involved in two works on the album as pianist and as conductor.)
Why? Why are these complex, avant-garde, texturally challenging sound worlds so irresistible? Perhaps when the genius and fortitude of a composer like Adès meets the integrity and artistic prowess of an interpreter like Gerstein, our ears are lent and lent freely, with bedazzled curiosity. Urgent and honest, we quest after the supernatural.