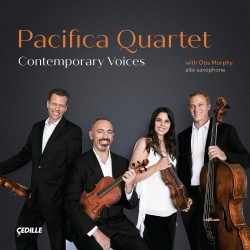 Contemporary Voices
Pacifica Quartet; Otis Murphy
Cedille CDR 90000 196 (naxosdirect.com/search/735131919623)
Markedly different works by three laureates of the Pulitzer Prize for Music – Ellen Taaffe Zwilich, the first-ever woman recipient (1983), Shulamit Ran (1991) and Jennifer Higdon (2010) – are performed by the Grammy-winning Pacifica Quartet, Indiana University artists-in-residence.
In Zwilich's 17-minute, three-movement Quintet for alto saxophone and string quartet (2007), Indiana University professor Otis Murphy adds what Zwilich calls "a certain sassy attitude to the mix." Murphy's bluesy saxophone saunters and riffs above pulsating, animated strings, yet moody lyricism prevails over the "sass."
Ran's 22-minute Glitter, Doom, Shards, Memory – String Quartet No. 3 (2013) honours artists who, facing death in the Holocaust, continued working. The opening movement shifts from serenity to disquiet, followed by Menace, a Shostakovich-like sardonic scherzo. The third movement is titled "If I perish – do not let my paintings die," words of Felix Nussbaum, who painted until dying in Auschwitz. The unsettled, fragmented music reflects, says Ran, "the conflicting states of mind that would have made it possible, and essential, to continue to live and practice one's art." Of the elegiac epilogue, she says, "As we remember, we restore dignity to those who are gone."
Higdon describes her 18-minute Voices (1993) as transitioning "from manic and frenzied to calm and quiet." In movements titled Blitz, Soft Enlacing and Grace, the Pacifica Quartet gorgeously illuminates the densely scored music, a textbook of string sonorities.
Three very stylistically diverse compositions, but not a single dull moment on this entire CD!