Bang on a Can was founded in 1987 by three American composers who remain its artistic directors: Julia Wolfe, David Lang and Michael Gordon. During the current COVID-19 crisis, particularly devastating in New York City, the renowned Bang on a Can Marathon, a celebration of the best and latest contemporary music from the Big Apple, has migrated to the internet, morphing from an annual live event into periodic streaming blasts. There have been three six-hour iterations so far (May 3, June 14 and August 16) and plans are to continue these online activities until performances for live audiences can fully resume. You can stay apprised of future events at bangonacan.org.
Michael Gordon – Anonymous Man
The Crossing; Donald Nally
Cantaloupe Music CA 21154 (cantaloupemusic.com)
Meredith Monk - ..M…EM..O.R…Y ….G.A….ME….
Meredith Monk & Vocal Ensemble; Bang on a Can All-Stars
Cantaloupe Music 21153 (cantaloupemusic.com)
Singing in the Dead of Night
Eighth Blackbird
Cedille Records CDR 90000195 (cedillerecords.org)
David Lang – Love Fail
Lorelei Ensemble; Beth Will
Cantaloupe Music 21158 (cantaloupemusic.com)
David Lang – Love Fail
Quince Ensemble
Innova 056 (innova.mu)
The human voice, one of the first instruments in our world (there are likely others, such as interstellar "noise"), has rarely been glorified in better circumstances than in the five recordings mentioned above. Perhaps this is because in all of the recordings in question the purest of sound – that of the human voice – has been pushed to both define exactly what it means to give praise to the arts melodically, harmonically and rhythmically. But each of these works also redefines polyphony – within the continuum of music – in the grand manner. Coincidentally (or perhaps not at all) members of the ineffably brilliant musical New York City cooperative, Bang on a Can, have been associated with each of the recordings and this means, of course, that you can expect the unexpected in the most sublime sense of the term.
Musicians such as Meredith Monk, Julia Wolfe, Michael Gordon and David Lang are – together and separately – proverbial forces of nature. They represent everything that is transcendent about human vocalastics. Impossible leaps in register, manipulating breathing whether nasal, throat or diaphragmatic, weaving voices (using harmony and electronic manipulation) into diaphanous musical fabrics of breathtaking beauty or simply singing with lustrous simplicity and honesty are just some of their many phenomenal characteristics. And then there is the interpretation – or sometimes using the non-interpretation of the works to deliver the finest quality of music and musicianship – which catches us off guard. This is something that happens across all of the works and recordings in question.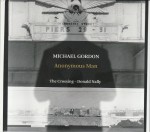 Michael Gordon's Anonymous Man deals with the existential loneliness of community. The music describes both the discovery and effects that something like that could have on the human sensibilities. Gordon's work comprises the music and accompanying narratives that, when sung solo or in ensemble, speak to the existential angst of Gordon's character as the Anonymous Man. The music startles and the words constantly enliven it through their beautifully bizarre and almost neurotic sensitivity to feeling and experience. The musicians of The Crossing, conducted by Donald Nally, capture all of Gordon's angst by investing the music with just the right amount of drama and emotion – which is also often delightfully deadpan. The textural light and shade of music in On That Terrible Beautiful Morning is perfectly judged in terms of both phrasing and intonation.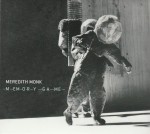 Meredith Monk's work on Memory Game is a traversal through the topographical landscape of the mind and is somehow viewed through the spatial and the horological. Just as you would need a small leap of imagination to see hour in horology, but could nail the meaning by envisioning the study of time and the art of making timepieces, in Monk's case you are drawn forwards and backwards in time by playing the proverbial Memory Game. The members of Bang on a Can bring with them instruments to evoke a kind of musical séance in the fullest and most magical sense of things supernatural and brilliantly entertaining. In these nine pieces the listener is led slowly through subtly changing mental-musical scenery. There are often deliberately comical (spoken, sung and instrumental) effects. Slowly, like a brilliant jigsaw puzzle these brightly coloured musical fragments evoke a Memory Game that is dismantled and reassembled in constantly hypnotic patterns.
The eighth stanza of Wallace Stevens' poem Thirteen Ways of Looking at a Blackbird describes metaphorical antecedents of the dizzying exploits of the ensemble Eighth Blackbird who make music by means of "…noble accents/and inescapable rhythms…" While not strictly speaking a vocal recording, the album, Singing in the Dead of Night, is certainly creatively and evocatively a singing one. Although it is David Lang, Julia Wolfe and Michael Gordon of the formidable group Bang on a Can, who have splintered the iconic Beatles song, Blackbird, by reimagining it in five fractured segments of the original lyric in a somewhat darker realm than its original creation, Eighth Blackbird must also be credited with its most magical reconstruction. Instruments – specifically the exquisite manner in which they have been played – don't simply recreate the whispers, murmurs, moans and groans of the human voice as well as the proverbial flutterings of the blackbird of the Beatles song, but, in fact, propel the music into a proverbial orbit.
Finally, David Lang's deeply introspective almost operatic meditation Love Fail fuels the endeavours of two accomplished chamber groups – the Lorelei Ensemble and the Quince Ensemble. The release of both concurrently is probably a coincidence but to imagine that this fact may not do either release any favours would be a fallacy. Both releases are superb and recommend themselves for different reasons. The Lorelei's a cappella version affects with a performance that is forthright and deeply moving; unravelling in the ensemble's wonderfully flexible approach, creating imagery that befits something of great density and import as well as something delicate and light.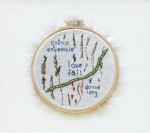 Quince Ensemble's performance adds minimalist instrumentation and is equally profound, bringing wonderful shape and motion to the simpler pieces and musical clarity to the most dense.
Together these five recordings offer a rare and uplifting musical repast in this time of great consternation and stress.