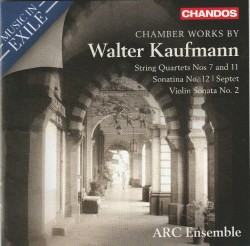 Chamber Works by Walter Kaufmann
ARC Ensemble
Chandos CHAN 20170 (chandos.net)
This, the first-ever CD devoted to the music of Walter Kaufmann (1907-1984), is the latest in the Music in Exile series by Toronto's ARC Ensemble (Artists of The Royal Conservatory), showcasing unheralded composers who fled Nazi Europe. In 1934, the Czech-born Kaufmann left Germany, becoming director of European music for Bombay's All India Radio, composing, conducting, playing viola and piano in chamber ensembles and researching Indian, Nepalese, Bhutanese and Tibetan music. Moving to Canada in 1947, he served as the Winnipeg Symphony's first music director (1948-1958) before teaching ethnomusicology at Indiana University.
Although Kaufmann composed prolifically throughout his career, including six symphonies and over 20 operas, each piece on this disc dates from his years in India. String Quartets Nos.7 and 11 receive visceral performances from the stellar foursome of violinists Erika Raum and Marie Bérard, violist Steven Dann and cellist Thomas Wiebe. Raum and pianist Kevin Ahfat collaborate in Violin Sonata No.2; clarinetist Joaquin Valdepeñas and Ahfat perform Sonatina No.12 (originally for violin and piano); violinist Jamie Kruspe and cellist Kimberly Jeong join the ensemble in Septet for three violins, viola, two cellos and piano.
These are substantial works, in which plaintive solemnity alternates with emphatic, syncopated dances, all heavily imbued with Indian modal, melodic and rhythmic sequences. I found this engrossing mix of European and Asian traditions richly rewarding and hope that this superb CD will inspire more recordings of Kaufmann's music. I'd love to hear them.