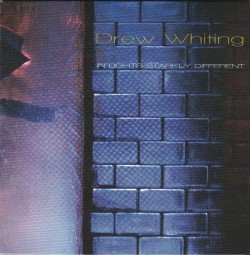 In Lights Starkly Different
Drew Whiting
Innova Recordings innova 032 (innova.mu)

American saxophonist Drew Whiting's wide-ranging musical expertise performing on soprano, alto, tenor and baritone saxophones, combined with his interest and dedication to contemporary electronic music, make his release featuring seven recent sax/electronics compositions memorable.
In Lights Starkly Different, composer Robin Julian Heifetz created loud and hyper-digital sounds using REplayPLAYer software and later processed with GRAM Tools. Chance and notation drive the piece as the tenor saxophone's fast flourishes and tones ground the background electronic crashing, echoes and intense atonal effects. More unsettling sounds in Ed Martin's Break, as Whiting plays baritone loud/soft contrasts, wailing atonalities and pitch slides against intense electronic washes and crashes. In Ötzi (named after a 5,000-year-old mummy) composer Alexis Bacon's recorded rocks and metal noises make eclectic clicks, crashes and walking sounds against the tenor sax.
For the Fallen, by Judith Shatin, has its slower, lyrical, emotional soprano sax lines lock into electronics created from recordings of Italy's Capana dei Caduti (Bell for the Fallen). Love the multiple contrapuntal saxophone lines in John Mayrose's Random Access, as Mayrose uses live electronics to layer Whiting's alto sax (stored in RAM) for effects. In Jeff Herriott's As brightness is smeared into memory, the reflective romantic soprano sax part is closely connected to electronic washes. Nathan Edwards' Saudade Study, with tonal ambient tenor sax and delay/reverb effects is sad, thought-provoking emotional moods music.
This is contemporary music at its best as Whiting breathes and plays saxophone in contrasting intensities and styles with diverse electronics effects.