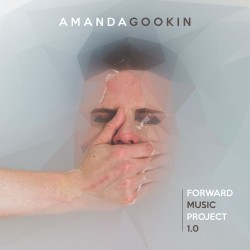 Forward Music Project 1.0
Amanda Gookin
Bright Shiny Things BSTC-0135 (brightshiny.ninja)
It is the highest level of artistry that can realize a message, a story or an emotion while seeming to have not performed it at all. This was my takeaway from my introduction to cellist Amanda Gookin.
Forward Music Project 1.0 is a collection of seven pieces for solo cello and electronics ranging in length from five to 12 minutes by seven culturally diverse women composers. I rarely found myself thinking of the stunning level of execution; I was so immersed in the inspired delivery of these seven miniature works of art. Beginning with Natalie Joachim's Dam mwen yo, a picturesque blending of the voices of Haitian women lovingly embraced with cello, to the dynamic and powerfully joyous final track of Jessica Meyers's Swerve, each work outlines themes of the cross-cultural injustice and suffering of women. From one track to the next I was moved by the stunning technique that beautifully unified the collection. Gookin keeps the unique and accessible collaboration on message by including the voices of the composers themselves, available as short descriptive introductions in their own voices on YouTube, thus keeping this album refreshingly free of ego. But the music itself warrants attention regardless of the storytelling.
"For mothers. For sisterhood. For brave storytellers and quiet listeners. I sing, I gasp, I fight, I breathe life into the work of these fearless artists. I founded Forward Music Project for you. And you are not alone."
I was woefully ignorant of Amanda Gookin before this inspired listen, but I have surely become among her greatest fans. A significant and most welcome collaboration for the times.