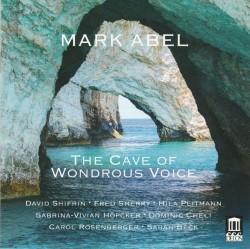 Mark Abel – The Cave of Wondrous Voice
David Shifrin; Fred Sherry; Hila Plitmann; Sabrina-Vivian Höpcker; Dominic Cheli; Carol Rosenberger; Sarah Beck
Delos DE 3570 (naxosdirect.com)
California-based composer Mark Abel explains in the liner notes that his father was a "devotee" of such classical chamber music composers as Mozart, Brahms, Beethoven and Dvořák, which clearly influenced his emotionally driven compositions grounded in modern and classical styles.
Abel is renowned for his vocal works. His exciting song cycle Four Poems of Marina Tsvetaeva features four Russian poems translated to English for the first time by Alyssa Dinega Gilliespie. Soprano Hila Plitmann sings with dramatic clarity, musicality, tuning and high pitches. Carol Rosenberger (piano) and Sarah Beck (English horn) support with technical/musical control as the words and music are one.
Diverse tonal and stylistic storytelling is featured in Abel's chamber works. Intuition's Dance features Rosenberger and clarinetist David Shifrin playing contrasting happy bouncy faster, and slower spooky lyrical sections. Cellist Fred Sherry joins them in the three-movement Clarinet Trio in which they each are almost soloists, especially in Taking Flight, with its energetic pulsing opening, and upbeat jazz-flavoured closing.
Another wordless musical story suggesting "the subconscious mind's journey through the course of the day" is The Elastic Hours, performed by violinist Sabrina-Vivian Höpcker and pianist Dominic Cheli. What Friday Brought opens with a positive end-of-the-work-week mood until stuff happens with moody tremolos, and held notes. Saturday's Circumference is a driving tonal duet featuring intermittent happy toe-tapping and slower reflective sections.
Abel is a compositional master of intriguing contemporary music.