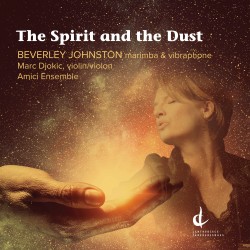 The Spirit and the Dust
Beverley Johnston; Mark Djokic; Amici Ensemble
Centrediscs CMCCD 27920 (cmccanada.org/shop/cmccd-27920)
Dubbed, "a champion of new, genre-busting works" (DRUM! Magazine), Canadian percussionist Beverley Johnston is a rara avis in this country: a percussion soloist with an international career. Over four decades Johnston has built an enviable reputation for her musically intelligent performances, her deft classical transcriptions sharing the stage with contemporary compositions and dramatic presentations. Her career highlights and honours have been too many to list here.
In 1986 Johnston released her first solo album Impact (Centrediscs, JUNO Award nominee), followed by seven more, as well having appeared on numerous other recordings. Her newest, The Spirit and the Dust, features her signature instruments, marimba and vibraphone. She is joined by violin virtuoso Mark Djokic and the illustrious Amici Chamber Ensemble in six works by four prominent Canadian composers, Christos Hatzis, Richard Mascall, Norbert Palej and Dinuk Wijeratne.
The Spirit and the Dust for solo marimba by Wijeratne is a dual musical meditation, skillfully reflecting on themes of life and death inspired by world literature, as well as on the richly varied tonal palette of the marimba itself. Johnston reveals her vulnerable side in Palej's dramatic yet intimate ser con Él (be with Him). She whispers and sings words of yearning for someone unnamed while simultaneously playing vibraphone. Two fragmentary Chilean texts are separated by five centuries, one by an anonymous Inca poet, the other by Gabriela Mistral.
While the absence these poets suggest may only be an illusion, the musical and emotional landscapes Johnston evokes on this album feel only too real.